Carrie Underwood Credits 'Belief' For Success During Walk of Fame Speech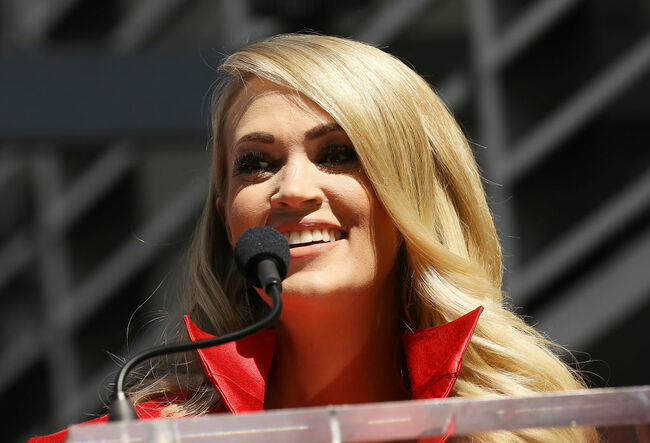 Carrie Underwood's had one heck of a year, after suffering a nasty fall last winter that resulted in over 40 facial stitches.
Aside from healing well, the country star recently released her sixth studio album, Cry Pretty, which she'll tour on in 2019, and announced that she and her husband Mike Fisher are expecting their second child. Now, she can also add receiving a star on the Hollywood Walk of Fame to her list of good things to happen in 2018.
The "Love Wins" singer celebrated the feat with a ceremony on Thursday (September 20). The day kicked off with some kind words from her American Idol mentor Simon Cowell and fellow country superstar Brad Paisley before Carrie took the podium.
"How is this my life?" the emotional singer asked to begin her speech. "How does a girl from Checotah, Oklahoma, get a star on the Walk of Fame? I will tell you: belief. So many people who have believed in me," she said, acknowledging her parents.
"As I got a little older and reality set in, you just don't know, 'Is this possible?' So I try out for American Idol and there was belief. Judges who believed in me from the beginning and people who voted for me that believed in me the whole way through," she added before shifting the focus to her family.
"I met an incredible man, Mike, who thinks I'm so much better than I actually am. Thank you for believing in me as a human, as a wife, as a mom, and supporting me through all of this," she said while wiping tears from her eyes. "He believes in me and we had another little man who believes in me too. Isaiah Michael, I love you so much. You're the best thing we ever did. I love you and I believe you."
Later in the day, Carrie took to Instagram to thank everyone for such a wonderful tribute. "What an amazing day! I am overwhelmed and overjoyed at the love I felt at my Hollywood #WalkOfFameCeremony!," she wrote alongside a photo of her admiring her star. "Thank you @simoncowell and @bradpaisley for the kind words. It was an honor to have you there! Thanks to all the amazing fans that came out! This is a day I will never forget!"
"...And my life wouldn't be what it is without my boys, my family and my friends! Thanks to all who could come today! I don't deserve all of this! But I am so grateful and my heart is so full!" she wrote in a follow-up post that included photos of her husband, son, friends, and family.
Take a look at the thoughtful posts below.
Carrie Underwood is set to heat up Vegas as an iHeartRadio Music Festival headliner on Saturday, September 22. Check out ticket info here.
Photo: Getty Images